How To Hack A Telegram Channel
I call back you will be interested to learn about the three all-time ways to
hack Telegram business relationship and password, and here's why.
Telegram is getting younger. The secret of confession, or rather the secret of correspondence, and the secrecy of chats is gaining more and more than popularity among the teenagers and young people.
At present wait at the state of affairs through the eyes of parents. How tin they protect their teenager if they do non know what happened to him? After all, about 75% of teenagers who take received sexual offers on social networks are silent about this.
It is with the goal of helping that this article was written. There are many different ways to
hack Telegram business relationship and countersign.
Such applications and platforms provide admission to all letters, media files, etc. As a result, you take the opportunity to control your child, and he will not even doubtable this. Be that every bit it may, information technology is recommended that you very carefully approach the choice of applications for
monitoring Telegram. There is a risk of running into counterfeit products or malware .
In this article, we will look at the 3 nigh reliable ways to hack Telegram account and password. Note that these methods are suitable non only for parents, merely also for all those who want to admission someone else's account.
How to hack Telegram account and password with mSpy?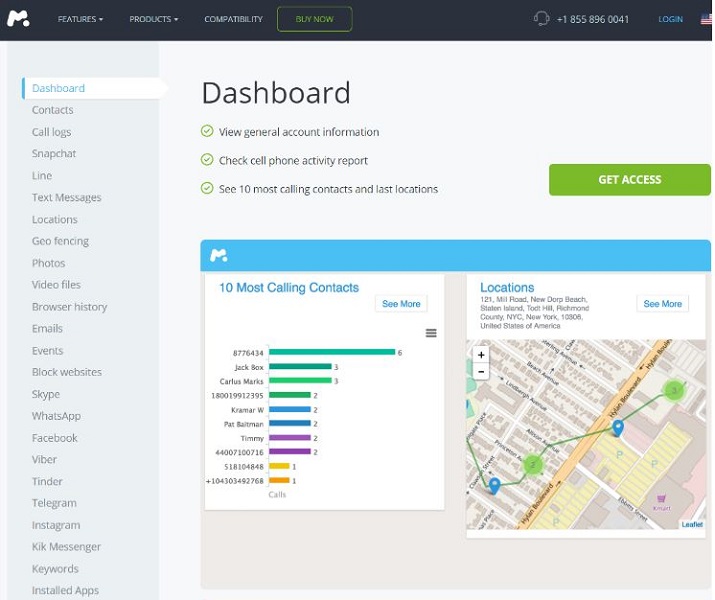 mSpy is one of the nigh powerful Telegram hacking apps on the market. With information technology, y'all volition get admission to all received and sent messages of the messenger, moreover, you can even view deleted messages. Y'all can hack messages vis WhatsApp, Snapchat, Facebook, Instagram and other messaging apps.
Media files and contacts of the receiving political party volition likewise not be able to avoid your command.
In addition, mSpy is an extremely reliable and prophylactic tool for
hacking Telegram. Immediately afterwards installing the spy app on the target phone, you only need to remove the program icon.
From this moment, the application volition go into "invisible" mode, which will not permit the controlled user to guess nearly surveillance.
Two options to crack the password for a Telegram account:
Telegram tracking : With this function, you can directly, from the control panel, view letters and media files.
Keylogger: mSpy non merely allows you lot to hack non simply Telegram, but also Instagram account , too as other social networks. How? It just keeps rail of all the keystrokes. You lot merely have to wait until the target user decides to log in and intercept the password.
How to hack Telegram account using mSpy?

Go mSpy. To
hack Telegram, you need to make a purchase of the mSpy Premium package. The capabilities of the "Bones" package are express by a standard set of functions. The "Family unit" packet is perfect for those who need monitoring up to iii Telegram accounts at a time.
As soon as payment is made, ii emails will be sent to your registered e-mail.
In 1 of them there will be a link to your command panel. Get to settings and select which device you lot need to hack: iPhone or Android.
You will receive pace-by-pace instructions for installing mSpy. In example of difficulty, y'all can ever contact support or use the mAssistance services.
After installing mSpy, remove its icon. Go to the mSpy control console, to the options. To hands
hack Telegram messages, select "Telegram". And entrust the "keylogger" to crack the Telegtam countersign.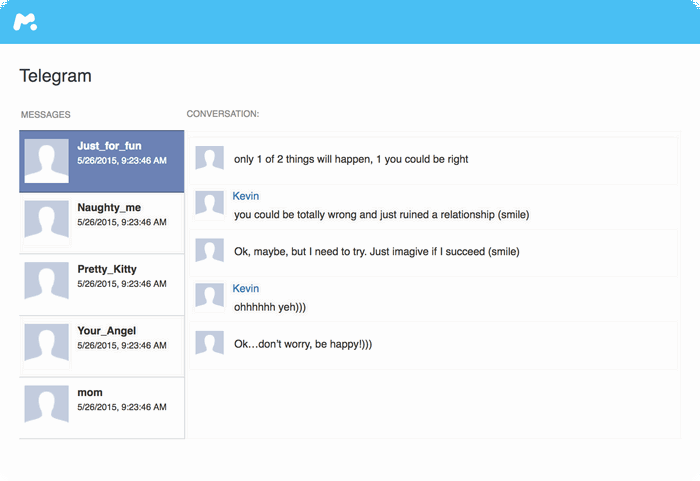 Read mSpy reviews or view the online demo.
How to hack Telegram account and password using FlexiSpy?

FlexiSpy is some other Telegram account countersign peachy application. The spy awarding, having won the trust of millions of users around the world, proved to be a condom and reliable mobile hacking software. It tin can likewise work equally hidden call recorder for both Android and iPhone. But information technology is a fleck expensive than mSpy.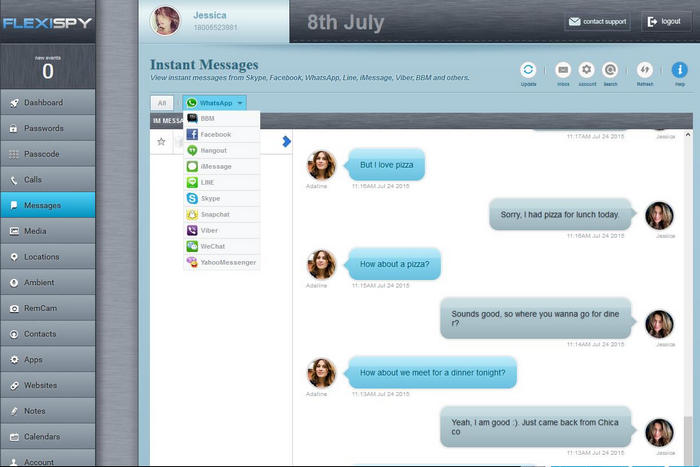 After installing the application on the target phone, the FlexiSpy icon should be removed.
The spy will switch to invisible mode and will not even pull energy from the battery. Such a pro has no chance of being discovered.
Hack Telegram messages using FlelxiSpy:
Telegram hacking: The option volition get your "eyes and ears", allowing to read other's chat messaging. View the logs, date and time of receipt of the bulletin and get into the listing of contacts of the controlled device.
A keylogger will help to take full control of the messenger. How? It catches the moment when the user logs in, monitors keystrokes and shares the "mined" password with you. And that's all.
How to hack Telegram account with FlexiSpy?

Create a FlexiSpy account.
We become into the target phone and install FlexiSpy.
Delete the FlexiSpy icon.
We pass to the FlexiSpy control panel and through information technology we get to Telegram.
Annals for FlexiSpy for complimentary.
How to hack Telegram account and countersign with eyeZy?

eyeZy is i of the powerful and affordable spyware apps for
hacking Telegram accounts.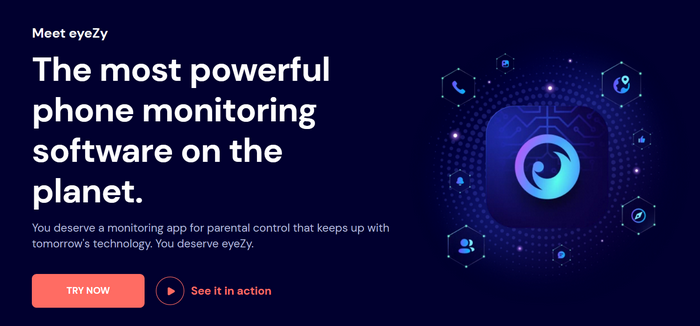 Its feature is the self-destruction of the eyeZy badge immediately later on installing the software. After that, fifty-fifty with a great want, the chances of finding an invisible spy are zero.
How to hack Telegram account with eyeZy?
Create a free eyeZy business relationship.
Enter the target device to login
Download eyeZy for Android or eyeZy for iPhone , install the application.
Go to the command console and select "keylogger". With information technology, you can "get" the password for the Telegram account.
Conclusion

At present you lot know how to
crack someone else's Telegram business relationship and countersign.
Of all these, I would recommend mSpy as the nearly reliable and efficient. Moreover, you can penetrate the messenger with its help in 2 ways: directly or by using a keylogger.
FlexiSpy, unlike it, is expensive. And eyeZy is not your banana if you demand direct access to Telegram.
In any case, the final choice is yours.
I hope the article helped you. Afterwards all, now you lot know all the ways of correct, secretive and anonymous command of your child in Telegram, which means yous tin can protect him.
Source: https://fonespy.net/how-to-hack-telegram-account/